Non-asbestos Gasket
Due to health hazards associated with asbestos exposure, non-asbestos gasket materials are widely used today.
Compressed non-asbestos gasket materials combine non-asbestos fibers such as fiberglass and aramid fibers with rubber to improve the temperature and pressure performance of the gasket. Combining inorganic and organic fibers with rubber and fiberglass allows for a range of variants that have different mechanical specifications. These compressed non-asbestos gaskets provide excellent ability to seal, torque retention, and heat resistance that eliminates the need for asbestos. Gaskets manufactured from compressed non-asbestos materials are designed to perform in applications involving, air, water, steam, oils, acids and general chemicals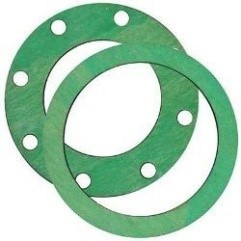 ATC Industry Solutions  have access to known branded materials such as Klinger, Novus and Gylon amongst others. We can also supply a range of unbranded gasket materials as an alternative to commonly recognised brands. Contact us today for your gasket needs.
We offer gaskets made from a wide range of other materials or tailor-made gaskets for particular client needs. To discuss your gasket requirement contact us today so that we can offer the best solution to your industrial application. 
For more information on our range of products